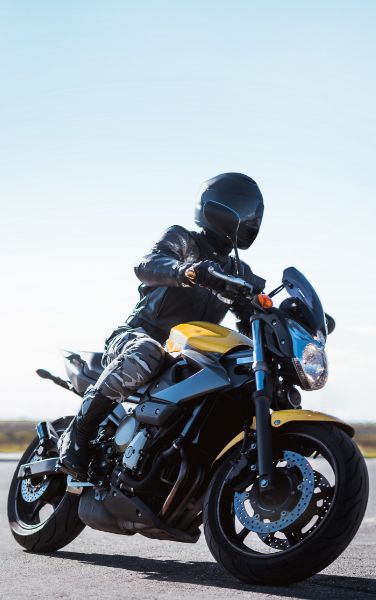 Frequently Asked
Questions
Q. Who administers the CMSP?
A. The CMSP is administered by the CHP pursuant to California Vehicle Code sections 2930-2935. As of 2019, over 1,200,000 motorcycle riders have received training at one of the CMSP's many training sites since the program began in July 1987.
Q. Why should I take the course?
A. Upon successful completion, you will have learned how to become a safe and responsible motorcyclist, will receive a DMV skills test waiver and possible insurance discount.
Q. How do I find a course near me?
A. Call 1-(877) RIDE-411 and follow the prompts or click here to find a training site near you.
Q. Do I need to have any riding experience?
A. It is not essential to have any riding experience. However, you need to have the ability to balance and stabilize a two-wheeled vehicle. If you have not ridden a bicycle in a long time, it would be a good idea to get some practice before attempting to ride a motorcycle.
Q. How long does the course take?
A. The Motorcycle Training Course is approximately 15 hours over typically a three day period. The 1-Day Premier Course is approximately 8 hours total. Check with your local training site for scheduling options.
Q. If I'm under 18 years old, can I enroll in the course?
A. If you are between 15 ½ and 18 years old you will need the signature of a parent or legal guardian in order to take the course. Ask your chosen site to see if your parent or legal guardian will need to come to class with you. If you are under 18, read the important information on this page.
Q. How do I sign up for a course?
A. Locate the site closest to you and register online or give them a call. They will be happy to schedule you into the next available class that fits your schedule. Find a CMSP Course provider near you, click here.
Q. Do I need to get a learner's permit before I take the course?
A. Any individual, 15 1/2 years of age or older, who wishes to participate in a CMSP Motorcyclist Training Course must possess either a valid driver's license, a California DMV-issued instruction permit or a California DMV-issued identification card. Any person younger than 18 years must also have the written permission of his/her parent(s) or legal guardian. CMSP accepts out-of-state student credentials that are acceptable to the California Department of Motor Vehicles.
Q. Can I take the course if I have a restricted or suspended driver license?
A. Any potential student who possesses a license that has been restricted due to one or more convictions for driving while impaired may not participate in any CMSP Motorcyclist Training Course or CMSP 1-Day Premier Motorcyclist Training Course until all restrictions to the license have been lifted. All potential students will be asked to attest that they are not in possession of a restricted license.
Q. What is the cost of the course?
A. The cost of the CMSP Motorcyclist Training Course will be no more than $425 for riders who are 21 years old and older and $395 for 20 years old and younger. Please be aware that tuition does not include DMV fees associated with obtaining your motorcycle license.
Q. What do I need to bring to the course?
A. Your training site will provide the motorcycle. Full coverage or three-quarter coverage DOT-compliant helmets are also provided if you do not have your own. Personal helmets are subject to inspection for DOT-compliance and to make sure they are in good working condition. Regardless of your riding experience, you are required to wear a helmet during the riding portion of your class. You should come to the riding portion with eye protection, a long-sleeved shirt or jacket, full fingered gloves, long pants and sturdy over the ankle footwear (not canvas).
Q. Do I need to bring a motorcycle to the course?
A. Motorcycles will be provided for you at the training sites.
Q. What if I don't pass the knowledge test or the skills evaluation?
A. If you do not pass the knowledge test or the skills evaluation, you can re-take the skills evaluation at a later time. Schedule the re-evaluation with your particular site. Check with your site for re-registration procedures and charges.
Q. Will I get a license after the course?
A. No. Upon successful completion of the CMSP Motorcyclist Training Course you will receive a skills test waiver (DMV DL389). This waiver will allow you to forego the DMV skills test. The DMV written test is still required for you to obtain your motorcycle endorsement. Please be aware that tuition for the CMSP Motorcyclist Training Course does not include DMV fees associated with obtaining your motorcycle license.
Q. How do I obtain a DL389 replacement?
A. Please complete the DL389 Replacement Form found here along with a copy of your driver's license. DL389s expire 12 months from the original date of issue and will not be reissued once it has expired. Obtaining a reissued DL389 will not extend the expiration date. If it has already expired you will need to take the entire course again to receive a new DL389 certificate. The training provider will not be able to reissue your DL389, only CMSP is authorized to reissue the DL389. Replacement DL389s may take up to a 5 working days to process your request.
* Refer to local guidelines for appropriate personal protection.